Britain might have come to a standstill in the recent barrage of snow, but it seems a little producer in Spain decided to make the most of the bad weather and created a rather historic ice-wine, the first to come from Rioja. (I've penned a translated summary for the non-Hispanic).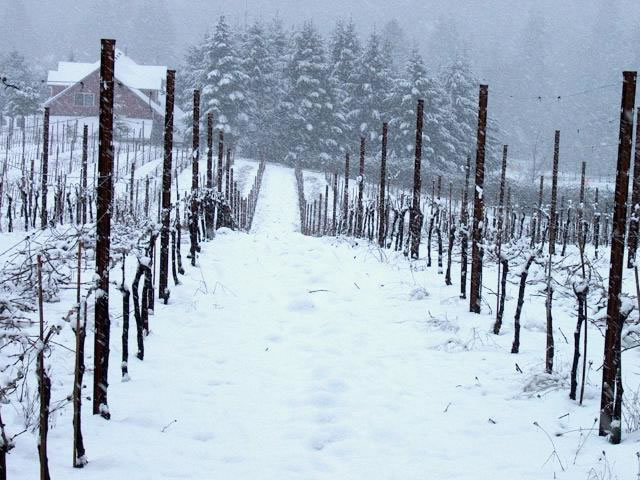 While the English vines are enjoying a well earned snooze, it might be worth English producers seriously considering following suit if we're going to see more of this weather.
There are already some excellent examples of late-harvest sweet wines coming from England – ice-wine seems the next logical step.
The tragic bushfires in South Australia highlight the harsh global extremes in climatic variance, that look set to become a regular part of the weather of the future.
Reports that the heatwave has forced growers to harvest early to prevent the grapes from being scorched, has left anxious winemakers with their fingers crossed, hoping that the grapes will ripen properly in the sanctuary of the shade, salvaging what they can of the 2009 vintage.
Meanwhile, across the channel, it was business as usual for the French, who, in typical French fashion, decided to be hideously flamboyant and hold a pruning competition. With the 'next round' reportedly taking place among the hallowed vines of Château Lafite Rothschild, I imagine it's gloves and hats all round – a shaking hand armed with shears could prove to be rather expensive…
Back home, now the snow is on its way out, I propose that we are terribly British about the whole thing and carry on as if nothing has happened. Get the fire on, ring the store to deliver your usual and watch the world go by with a glass of Sauternes.
Short and sweet. Perfect.
My Wine of the Week
Late Harvest Sauvignon Blanc 2007, Concha y Toro – £5.99 or £3.99 Buy 2 Save £4

It's well known in Darlington that this wine occupies many a space in my notoriously choosey wine rack.
Warming, rounded and with the characteristic freshness you'd expect from sauvignon, this wine is a wondeful alternative to some of the germanic auslese rieslings, in that it offers much brighter citric fruit and isn't nearly as cloying.
Much needed golden sunshine, with the fresh breeze of springtime.
I still can't believe how much this costs.
Stock up, served chilled and frame the reciept.